Frank A. Small
March 5, 1939 – August 8, 2021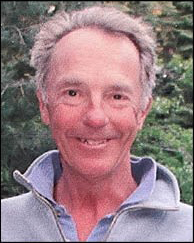 Frank Andersen Small, age 82, of Portola Valley died peacefully at home on August 8, 2021.
Frank, by profession, was a lawyer; however, his natural inquisitiveness took him well beyond the law. Frank was interested and knowledgeable in a wide variety of subject matters and issues. Frank read avidly on a broad expanse of topics-world history, politics, classical literature and modern fiction. He loved discours­ing with friends and family, particularly on matters of national and international politics. He was a lifelong learner, including, in his later years, studying Rus­sian, Italian and calculus. Frank was a natural and kind mentor who patiently mentored many young lawyers, business clients and at-risk youth. He saw endless potential in those he mentored and purposely disregarded any societal, educational or economic differences. Frank was the quintessential gentleman lawyer-unpretentiously well-spoken, charismatic, cultured, smart, confident and well-dressed. Many of his clients became life-long friends. Frank was athletic–a runner, rower, roller blader, and kickboxer. He had an infectious, loud laugh that unmistakably communicated a realistic life perspective and an obvious appreciation of life's joys.
Frank graduated from Dartmouth College in 1961 and from Stanford Univer­sity School of Law in 1964. He practiced real estate and business law for over 52 years with Lakin Spears LLP in Palo Alto.
Frank is survived by his wife of over 50 years Kay Small, his sister Joan Minor of Roswell, Georgia, brother-in-law Tom Stevens of San Carlos, and nephew Patrick Minor of Rocky Face, Georgia.